Commercial Cleaning Company covering Bognor Regis, Worthing and Chichester
Providing consistently excellent business cleaning services in West Sussex since 2003. Customer satisfaction is our main priority and we achieve this with a genuinely good service and a high standard of work. We cover Bognor Regis, Worthing and Chichester with our commercial cleaning services.
3,435
Hours of cleaning last month
42 x 2
Good hands cleaning every day
100%
Attendance rate of cleaners last month
Commercial Cleaning services we offer
Your local business cleaning company covering Bognor Regis, Worthing and Chichester.
Luna Clean always strive to offer the best quality cleaning services to each customer. This is why we have clients that have stayed with us for over 10 years. True to our name ("Luna" means "moon" in Latin and in some Latin languages moonshine cleaning means immaculate), our commitment is to impress you by providing impeccable commercial cleaning services.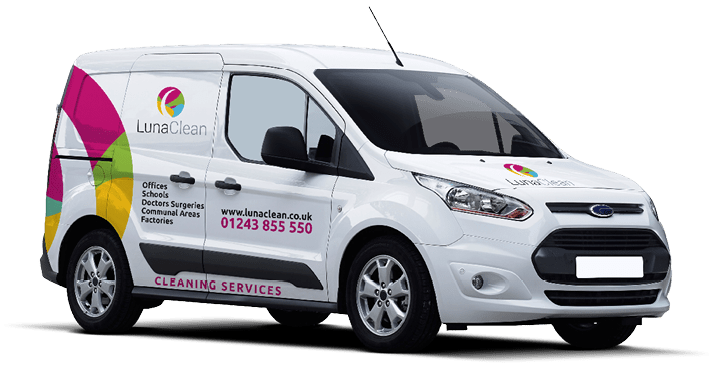 Why choose Luna Clean?
You will benefit from working with a friendly, reliable local cleaning company that achieve maximum results with minimum fuss. We guarantee dust free monitors and no more sticky mug rings on the desks!
So if you have any office cleaning needs, or would like to find out whether your company is making the most of its cleaning budget, just give us a call now for a friendly chat (no obligation).


Impressive Value
for Money

Fully Trained &
Insured Staff


"We have been approved to clean NHS office. Serving over 200 hardworking NHS staff, we managed to always get very close to 100% on their cleaning audits."
NHS

"We have been approved to clean NHS office. Serving over 200 hardworking NHS staff, we managed to always get very close to 100% on their cleaning audits."
NHS

"We have been approved to clean NHS office. Serving over 200 hardworking NHS staff, we managed to always get very close to 100% on their cleaning audits."
NHS

"We have been approved to clean NHS office. Serving over 200 hardworking NHS staff, we managed to always get very close to 100% on their cleaning audits."
NHS