Green Cleaning isn't just about using recycled paper products and concentrated cleaners. It's about providing a healthier place for your employees to work, as well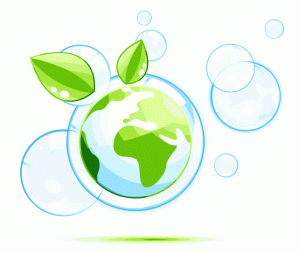 as long-term cost savings that result from more efficient green business practices.  Asthma, colds and other illnesses can spread if surfaces are not cleaned properly, creating absenteeism that could be prevented.
Most of the tasks of green cleaning are the same as regular cleaning…we still disinfect restrooms, vacuum floors and so on.  The major differences are how the cleaning is done, the order of cleaning and the type of supplies used.
Green cleaning services involve tools that actually remove dirt, rather than just giving the appearance being clean.  The order of green cleaning is from high to low surfaces, to ensure that as much dirt as possible is removed instead of moving dirt around.
Chemicals and tools used are safer for the environment without sacrificing quality.
Microfiber cloths, brooms and mops are used because they pick up more dirt and smaller particles.  Along the same lines, vacuums are microfiltered to remove more dirt and run more quietly than traditional machines.  Other equipment—such as buffers and extraction machines—is engineered to run efficiently, quietly and recapture water used or dust created while cleaning.
The more you know about the money-saving and healthful differences between green cleaning and traditional cleaning, the more your company will benefit.
If cleaning is on your to-do list then Luna Clean is here to help. We area an expanding, local cleaning company offering professional cleaning services at a realist price.
So for any commercial cleaning needs in Worthing, Bognor Regis and Chichester area, don't look any further, Luna Clean is your perfect partner.
Luna Clean
01243 855550
info@lunaclean.co.uk
www.lunaclean.co.uk